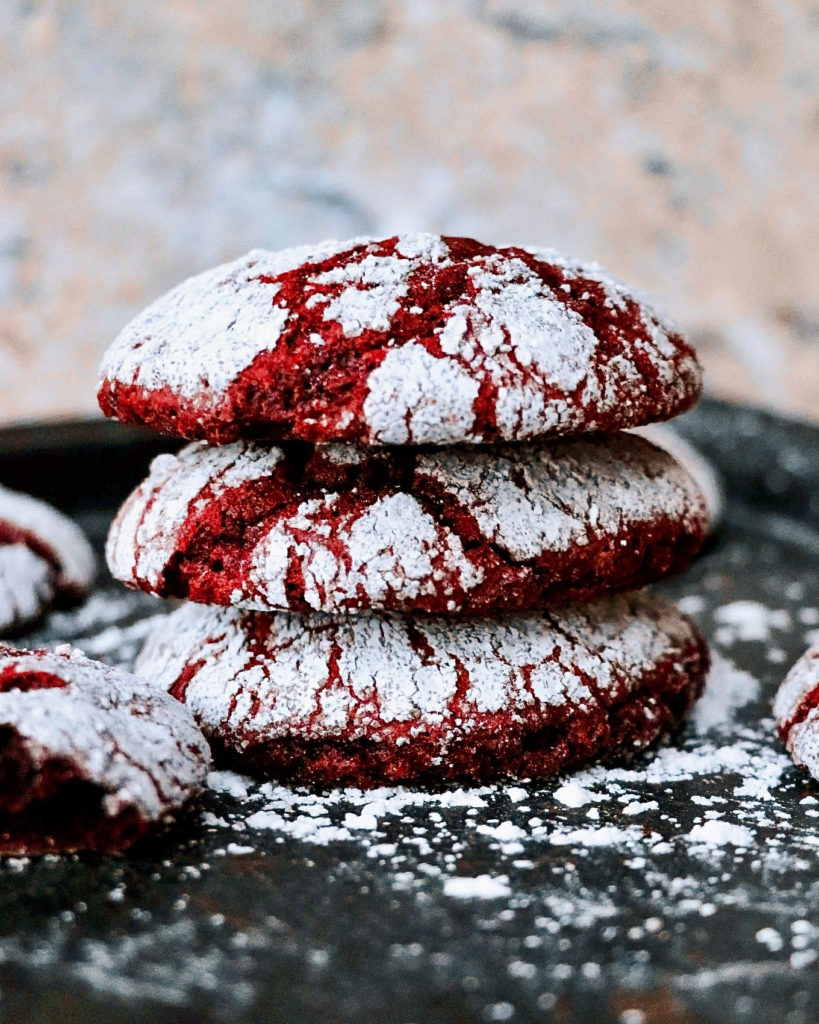 The year flew by in the blink of an eye. We here at L2C have been busy traveling the country, soaking in the inspiration, and crafting up some new ideas. Our gratitude and thanks can only be summed up in one perfect recipe.
These red velvet kringle, I mean, crinkle cookies are soft, rich, and fudgey, yet soooooo pillowy. They can be whipped up in less than 30 minutes, great with a tall glass of ice cold milk, and are a total crowd pleaser. For the best red velvet crinkle cookie recipe that aren't overly sweet with a hint of coffee and cocoa, we use 99% bitter chocolate and instant espresso. A touch of sour cream makes these tender and bright.
Happy Holidays from all of us here at Living 2 Cook!
-Chef Ngoc & Bryan
CHEF'S NOTES
Dutch cocoa, like Droste, can also be substituted along with a shot of espresso. Both yield an equally delicious result. I made mine using gluten free flour and they can be made with practically any baking flour, so get creative! Omit the sour cream, and replace the butter with all oil, if you want the cookies to be dairy free. Do not over bake these cookies, and be sure to reheat them if you want those soft gooey middles the next day.
These red velvet crinkle cookies are soft, rich, fudgey, yet pillowy. They can be whipped up in less than 30 minutes and last for days. For the best crinkle cookies that aren't overly sweet with a hint of coffee and cocoa, we recommend using 99% bitter chocolate and espresso.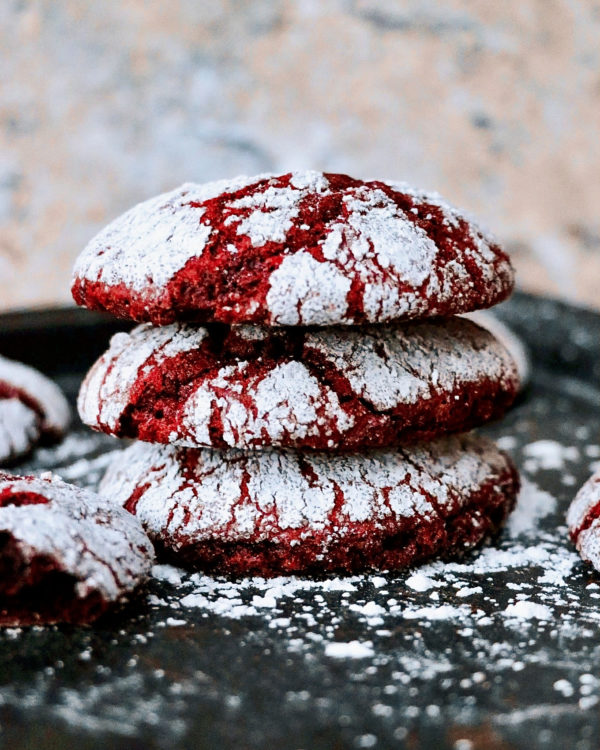 | | |
| --- | --- |
| | |
Whisk together eggs, brown and white sugar, vanilla, sour cream, and salt until light.

Combine oil, butter, and chocolate into a microwave safe bowl. Heat at 30 second intervals until chocolate is melted, about 1 min. Stir to combine. If using cocoa powder, omit this step and add oil straight into step 1. Add into the egg mixture and whisk.

Add flour, baking powder, baking soda, instant espresso, and any other dries if using substitutions, to the egg mixture. Whisk until completely combined. Add food color to desired shade. Switch to a spatula to blend it in if whisking is too difficult (Dough should resemble an extra thick batter. If you feel it's a little too runny, add 1 tbl of flour or cocoa powder to stiffen up.)

Cover bowl and place in the fridge for 10 mins. Preheat oven to 325f degrees.

Place the granulated sugar for rolling in one bowl. Place the powdered sugar in another. Once the passive time has been met, remove dough from the fridge.

Using a cookie scoop of your choice, scoop dough and drop directly into the granulated sugar. Roll dough ball around until coated. Transfer to the powdered sugar bowl and repeat. Do not brush off excess sugar.

Line two baking sheets with parchment. Place rolled balls of cookies dough at least 1-2 inches apart as they spread. Repeat the above step until all the dough is rolled.

Bake cookies for 8-10 mins for fudgey cookies, 10-12 mins for cakey cookies. Allow to cool before eating, but who actually follows that rule, right? Enjoy!