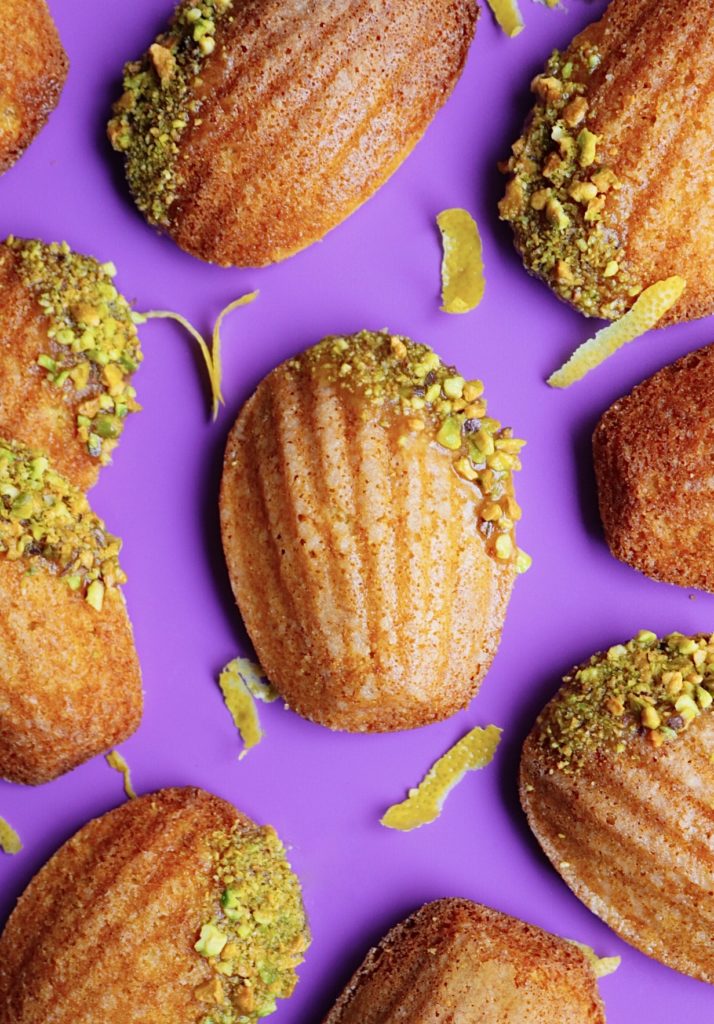 Adapting all of my recipes to a wheat-free diet has been a lifelong, even a life-saving, journey. Being diagnosed with Celiac Disease and autoimmune disease changed the way I prepare food for myself, my family, and guests in my home. Contrary to what you hear about specialty diets, Gluten-free doesn't have to mean flavor or texture free.
Being gluten-free, I miss flakey desserts like baklava and croissants the most. This recipe combines the flavor of baklava and the tenderness of cake. It's truly the best of both worlds. If you've never had a madeleine, I can honestly say you're missing out. Madeleines are tiny French genoise sponge cakes. Commonly baked in a distinctive shell-shaped mold, they're as beautiful to look at as they are to eat. Best served fresh and warm with tea or coffee.
Whether you're looking to adopt a special diet for health reasons or simply wanting to try something different from the everyday, we're here to help you on your personal journey. You'll find more recipes for paleo, vegetarian, vegan, dairy-free, and other dietary needs week after week right here at L2C.
Chef's Notes
I highly recommend keeping a supply of pre-blended gluten-free flour in your pantry. You can blend your own or purchase any retail package with xanthan or arrowroot powder added. When I'm low on my supply, I'll even resort to buying gluten-free pancake and cake mix to substitute. It works well when you're in a pinch. Superfine almond flour can be found at practically any grocery store. Blanched is preferred but any will do. The key to successful madeleines is all about temperature. Cold eggs and slightly warm butter creates the perfect balance. The butter is always folded in at the end. Don't worry about over mixing, gluten-free batters benefit from the extra stir. Bake immediately or store leftover batter in the fridge for up to a day.
| | |
| --- | --- |
| | |
Preheat oven to 350f degrees. If you are using a metal pan, coat with pan spray and dust with gluten free flour. If using silicone, do not treat with oil.

In a small sauce pan, melt butter, honey, saffron, lemon slices, and cinnamon over the stove at medium heat. Once boiled for 2 mins, turn heat off and remove from stove. Allow to rest for at least 5-10 mins.

In a mixing bowl, combine eggs, sugar, vanilla, zest and whisk together until smooth and foamy.

Add almond flour, gf flour, baking soda, baking powder, and salt to the egg mixture. Whisk until smooth.

Discard the lemon slices and cinnamon stick. Whisk together the honey butter combination until homogenous.

Pour in 3/4 of the honey butter mixture into the batter. Quickly whisk batter together until there are no visible lumps.

Spoon into the moulds enough batter to reach 2/3-3/4 up the sides of the shells. Cover and store any unused batter in the fridge.

Transfer to the oven on the middle rack and set a timer for 10 mins. Make sure to turn the pan midway through baking for even baking.

Test the center of the cakes by touching gently to see if they spring back. If they do not, add an additional 2-4 mins of bake time.

Once golden and firm, remove from oven and allow to cool for 2 mins before releasing the cakes.

For metal pans, use the back of a spoon or offset spatula inserted between the pan and cake in the mould gently pushing up until they release.

Transfer all the cakes to a cooling rack. Reheat honey butter if needed. Prepare pistachios in a food processor and transfer to a bowl.

Dip the top of the cakes in the honey butter and immediately into the pistachios. I used a spoon to glaze over the tops and sprinkled them on, either method works perfectly.

Serve immediately for the best experience. If you must wait, reheat the cakes in the oven at low temperature or 15-20 seconds in the microwave.