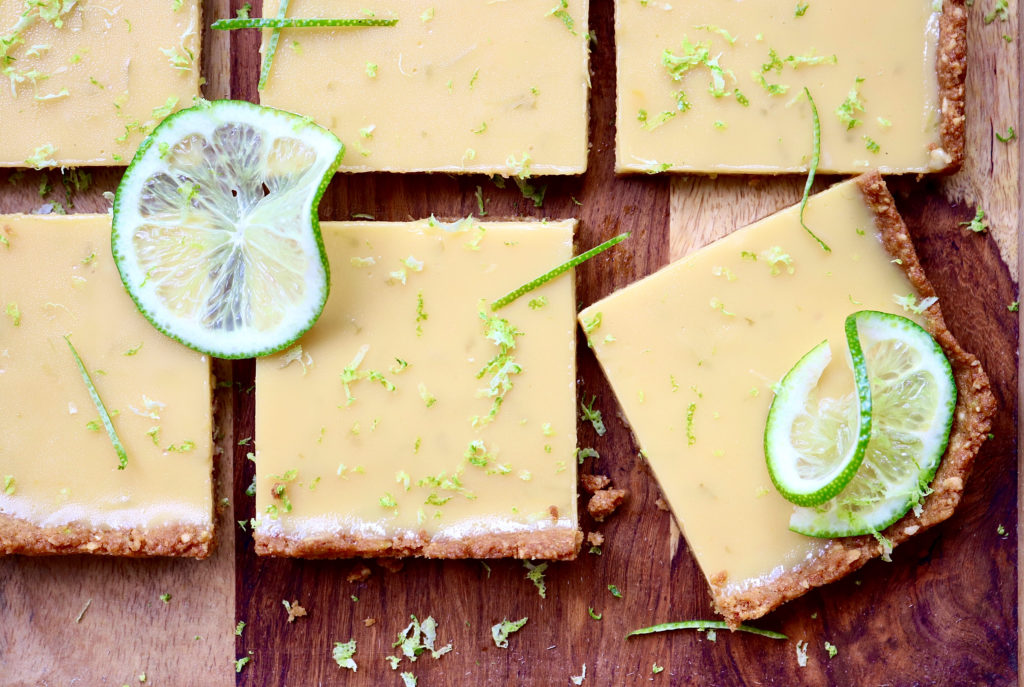 It all started after a trip to Holmes Beach on Anna Maria Island. The sweet smell of baked vanilla and citrus filled the air. A small unassuming restaurant with an open pass, plates piled high with fried conch and the owner sliding slices of key lime goodness straight to seats at the bar. One bite and I was transported to a world of sandy toes and hammocks swinging alongside palm trees. Then and there, I made it a lifelong goal to re-create the first taste I had from that magical summer.
In one of many early stints as a Pastry Chef at a local seafood restaurant, mornings spent slinging key lime pies was the perfect opportunity. After years of practice, I finally nailed a recipe that has won the hearts of many. These pies have been on numerous menus at all my establishments and have won over food critics time and time again. Voted Best of Restaurant Week three years and three different restaurants in a row, these bright and tangy bars can be made into a classic pie, in a shallow tart pan, or just about anything you want.
Enjoy these fresh out of the icebox, dipped in white chocolate, or chilled in the fridge with a dollop of freshly whipped sweet cream and a twist of lime. From my menu to your kitchen, I hope these bring as much joy to you as they have to my customers.
Chef's Notes
Freezing custard-based bars before slicing makes it extra easy to get those clean cut lines when dividing desserts. Substitute a portion of the juice with a variety of limes, lemons and other tangy citrus fruits for a twist on the familiar. Fresh, quality eggs, like Nellies Free Range, will yield the golden color and firm texture these bars are known for.
-Chef Ngoc
| | |
| --- | --- |
| | |
In a non-reactive mixing bowl, carefully combine the ingredients using a soft spatula for the filling. We don't want to whisk here, air bubbles are not a custard pie's friend. If you're extra picky, like me, I pull the chalazae off (the squiggly white part), so the custard is silky smooth. Allow it to rest in the fridge for at least 1hr-overnight (best) so the acid and the egg will begin to set the custard up and thicken beautifully.
Process the cookies in a standard food processor until it reaches a fine crumb. Add the sugar, salt, vanilla and nuts. Pulse to combine until the nuts reach course texture. Transfer to a bowl adding just enough butter and mixing thoroughly until it reaches what looks like a nice wet sand. Squeeze it into a lump and it shouldn't fall apart but it should crumble slightly.

*If using a small sheet tray, you have the option of lining the inside with parchment as this will help you remove the bars easier. Press the crumb into a 10"x14" shallow sheet tray or 10" deep pie pan. I always start on the sides first, using my finger tips and palms to 1/4-1/2 inch thick, then fill in the bottom pressing with the bottom of a measuring cup or small rolling pin. Place the crust into the oven and bake for 10 minutes until it become slightly firm to the touch and nuts are golden brown with a toasted aroma.

Cool the crust on a rack for about 20 mins. Turn the oven down to 275 f. Add the batter to the crust filling just to the top but not past the crumb line. Place the prepared pan/tray onto a larger sheet tray and onto the middle rack of the oven. Similar method for creme brûlée, pour a thin layer of warm water into the larger sheet tray. This is the secret to custard that won't curdle or soufflé on the outer ring.

Bake for 15 mins. Give it a slight wiggle to see if the custard moves or pools in the center. If it does, add an additional 10 mins. Reduce the time by 4 mins each interval until completely set. All ovens vary, make sure the oven is set to low or no fan. Once set, carefully remove the pan and allow to cool at room temperature, then give it a final set it in the fridge or freezer before cutting.

Just before serving, add a dollop of whipped fresh cream, fresh strawberries, squeeze of lime or a drizzle of white chocolate. Bon Appetite!