Move over Pumpkin Spice and say hello to Cinnamon Olive Oil! Stemming from a shortage of butter in my pantry, this fruity, antioxidant rich fat became the best unexpected accident for a quick an easy coffee crumb cake. It's the perfect pairing for all the Pumpkin-y, Caramel-y, Autumn feels and toasty beverages. Don't forget the oversized sweaters and fuzzy slippers. 😉
CHEF'S NOTES
Play around with a blend of all different types of warm spices like cardamon and orange, nutmeg and vanilla, and saigon cinnamon and brown sugar.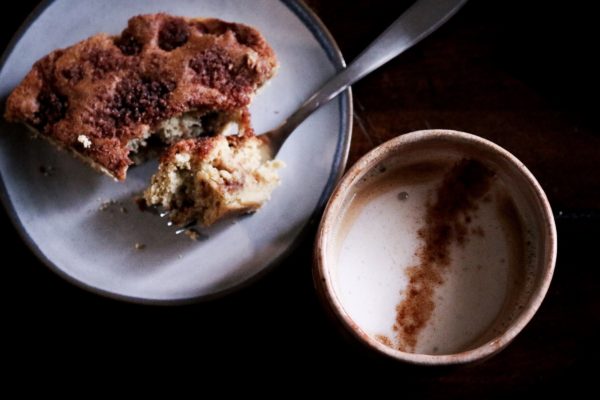 | | |
| --- | --- |
| | |
Preheat the oven to 350f degrees. This cake also bakes perfectly with the baking setting on any air fryer. Spray one 9" pan with non-stick coating or parchment/foil line and oil. Set aside.

In a large mixing bowl, combine all the dry ingredients for the crumb. Using a spoon, spatula, or hands, begin streaming in the olive oil and toss the dries to create a light crumb/sandy mixture. Set aside.
In a medium sized mixing bowl, combine all dries for the batter. Create a hole in the center of the mixture and add in all the liquid ingredients. Gently whisk together the wet ingredients until combined and gradually incorporate the dries. Try not to over whisk, a few lumps here and there are perfectly fine.

Pour 1/2 of the batter into the bottom of the pan. Sprinkle half the crumbs across the top. Pour the remaining half of the batter onto the crumb layer and finish with the remainder of the crumbs. If you love the taste of olive oil, drizzle a small amount on top before baking for extra crispness.

Place the pan on the center of the rack in the oven. Set a timer for 25 mins. Bake until center bounces back or toothpick pulls out clean. Add an additional 10-15 mins if needed. If you are baking in an air fryer, follow the above steps but check for doneness at 20 mins and add an additional 5 mins if needed.

Allow cake to rest for 10 mins before serving. Wrap any uneaten cake with foil for up to 2 days ambient, 5 days in the fridge. Reheat with a quick toast or microwave for 30 seconds before serving.