During the holidays I'm usually in charge of making the mashed potatoes at dinner. I nailed a perfect method for the silkiest pommes puree. My relatives couldn't get enough of them. So much that my aunties never failed to ask for the recipe after every meal. Well, until now.
Bryan and I met just prior to Thanksgiving in 2017. We were invited to a Friendsgiving celebration and he insisted on making the potluck side item, HIS "amazing" mashed potatoes. Quickly, I reminded him that I made the best mashy p's, and yet, he was totally confident his could outshine mine. Once we arrived at the party and everyone dove in, all the chefs there were raving about, you got it, the mashed potatoes.
I hung my mashy hat and stepped down from the potato podium. Bryan had outdone himself. Since then, he's prepared this top secret recipe at every holiday dinner and it continues to have aunties, cousins, and my own mother begging him for the recipe. Finally, we're ready to share it with the world. You'll never want to make mashed potatoes any other way, ever again.
Chef's Notes
The secret is in the three types of potatoes. Reds provide the waxy starch that hold up the heavy ingredients. Yellows add the tender buttery mouthfeel. Russets bring in the fluffiness. Keep the skins on, that's where all the real flavor is (and the nutrients). This recipe is perfect for making ahead of time as it reheats like a dream. Try it for topping your next shepherd's pie.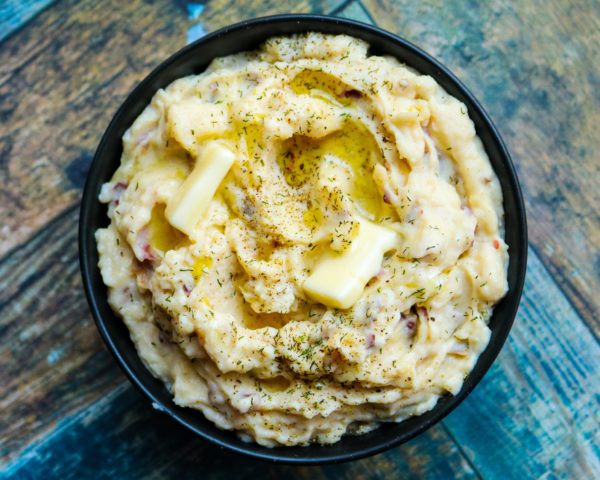 | | |
| --- | --- |
| | |
In a large pot, cut and combine all potatoes, herbs, garlic cloves, and salt. Fill with cold water until potatoes are submerged. Transfer to stove and turn heat to high. Allow water to come to a boil.

Reduce heat to medium/high and allow potatoes to cook for 15 mins or until centers are knife tender.

In a separate pot, combine milk, heavy cream, butter, bacon fat, and broth. Bring to a light boil until butter is melted and turn off heat.

Once potatoes are done, drain water, remove bay leaves leaving only potatoes, garlic, and herbs (optional. Using a potato masher or ricer, mash potatoes until fine.

Switch to fork or whisk, add cream cheese and whip until melted. Slowly add in milk mixture and continue whipping. Add remainder of ingredients, continue to keep whipping potato mixture for 5 mins and adjust flavor as needed.

Preheat oven to 450f degrees. Transfer potatoes to a bake safe dish.

Additional pats of butter on top of the potatoes added before baking is optional but makes them extra buttery. Bake for approx 20 mins or until top is golden. Broil if you want that extra crispy top.

Brag to all your friends about how good you are at making these mashy p's.
Add sour cream and chives to make them fully loaded.