This dish will take centerstage on the dinner table and be the star of your next meal. It's Brussels Sprouts like you've never eaten them before. Vegan and Vegetarian, without any compromise on flavor. Oven roasted or wok-fired, the results are always delicious.
Chef's Notes
Not vegetarian? Add a handful of sliced Lap Cheong (chinese sausage), bacon, or even garlic beef to make it meal with a bowl of fresh steamed rice. Leftovers make a great addition to salads.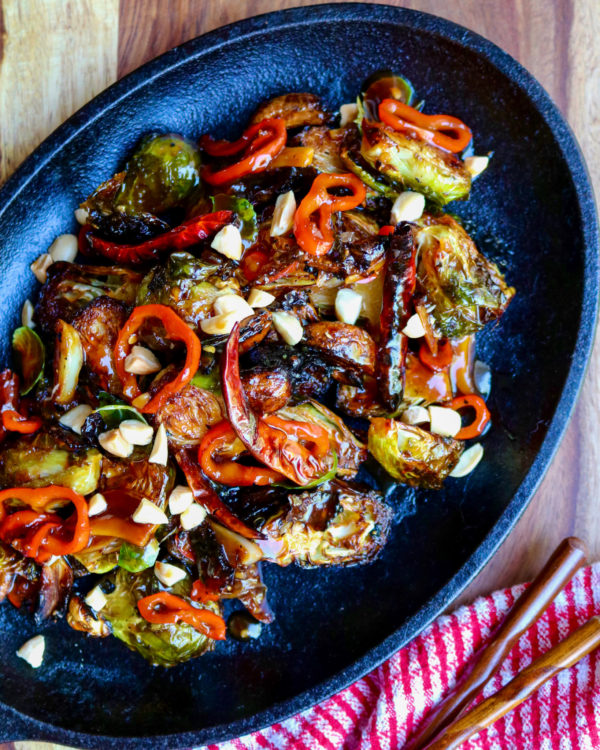 Oven Fried Brussels Sprouts
| | |
| --- | --- |
| Oven Fried Brussels Sprouts | |
For Roasted Brussels Sprouts
Set oven to high broil setting.

Toss cut brussels sprouts and garlic in a bowl or on a sheet tray in oil and salt and pepper.

Lay brussels sprouts in a single layer and transfer to oven rack set two notes down form the top rail.

Broil until edges begin to char for about 10-15 mins.
Heat pan on stovetop with sesame oil on medium/high heat.

Make a slurry of starch and water/broth, set aside.

Flash fry dried chilies in oil until just slightly burned and quickly remove the chilis, reserve.

Add ginger, garlic, sliced peppers, to oil and cook until garlic is golden brown.

Turn heat down to medium. Combine Sambal, sugar, soy, sweet chili/hoisin sauce and add to pan.

Whisk until dissolved and quickly stream in starch slurry. Cook until just thickened.

Add chilis back to pan and turn heat off completely.

Remove brussel sprouts from oven and add to sauce. Toss together until coated and transfer to warm platter.

Top with cilantro and chopped peanuts, almonds, or sesame seeds for garnish and crunch.
If you're adding protein to this dish, prepare it before making the sauce and toss it all together in the final step.