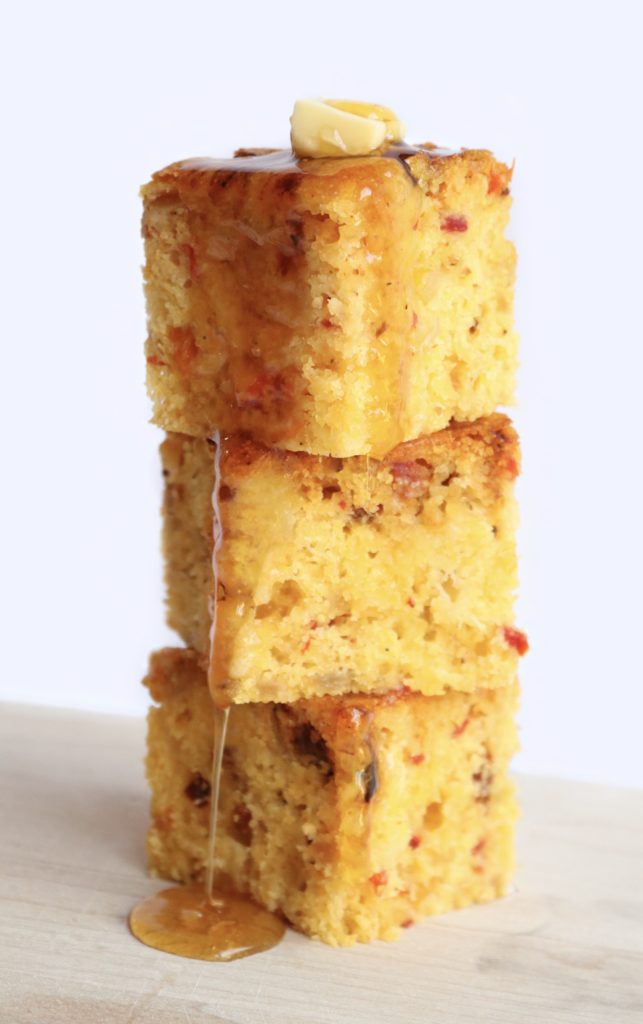 Every time I make chili, black-eyed peas, smoked pork chops, roast turkey or fried chicken and collards, my family always expects a pan of cornbread at the table. It is the cornerstone of Southern Cuisine. My affection for cornbread has become a full-on love affair over the years. Every iteration keeps getting better and better.
The secret to a golden crust and fluffy middle is a well seasoned cast iron pan dripping in bacon fat. I keep a jar in the back of the fridge. It continuously gets added to after every brunch in our house. It's a chef's pot-of-gold.
The real secret to this treat is in the Jalapeño honey. Infusing the sticky, sweet, glaze with fresh peppers gives it just the right amount of kick. You should make it at least one day ahead of your cornbread to allow the full flavor profile to develop. Drizzle it on pancakes, use it to add sweetness to a marinade, or drip a little in your next cup of tea (without the butter) for some extra magic. The honey keeps for days on the counter and weeks in the fridge.
Chef's Notes
Start this cornbread in a skillet and finish it like a cake. Using a well seasoned cast iron is best, but this recipe will work in a standard baking dish (omitting the stovetop step). The jalapeño syrup will seal in the moisture and extend the cornbread's shelf-life. Feel free to experiment with the recipe! Toss in ingredients like chives, bacon pieces, cooked chorizo, chiles, sun-dried tomatoes and other types of cheese to add a twist on the familiar.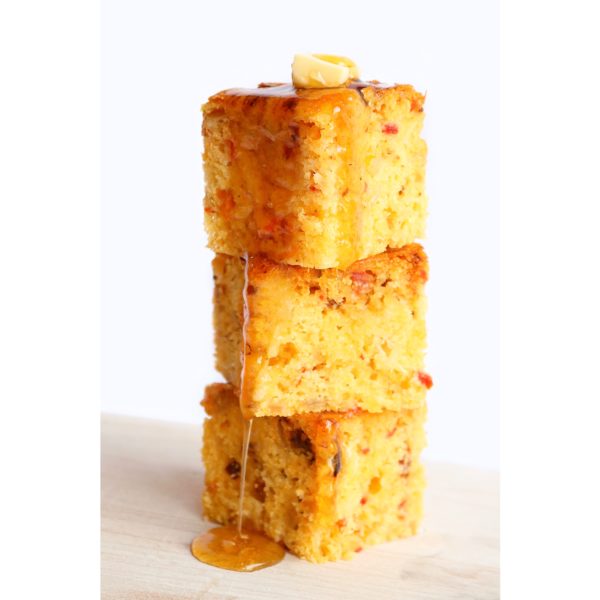 For the skillet cornbread
For the inclusions (optional)
For the Jalapeño Infused Honey (make ahead)
For the skillet cornbread

For the inclusions (optional)

For the Jalapeño Infused Honey (make ahead)
Preheat oven to 350f degrees.

Combine all dry ingredients in a bowl and whisk to incorporate. Create a hole in the center in the mix.

Add eggs, buttermilk, oil. Whisk together and quickly incorporate dry ingredients towards the center.

Stream in melted butter and water. Switch to a rubber spatula. Gently fold in inclusions until thoroughly incorporated.

Heat bacon fat in a cast iron pan on the stovetop set to high heat.

When fat begins to smoke slightly, turn heat off and pour batter into pan. Gently spread the top evenly across the center allowing the bacon fat to bubble up the sides.

Immediately transfer into the oven on top of a sheet tray. Bake for 20 mins or until center springs back slightly. A toothpick tester inserted in the center should come out clean.

When the cornbread is done, remove from oven and poke small rows of holes into the bread using a wooden skewer or tip of a chopstick.

Glaze the top of the cornbread with warm jalapeño honey butter and allow to cool before slicing.
For the Jalapeño Infused Honey
Heat honey and water in a small pot over medium/high heat. Boil for approximately 2-4 mins until water is reduced by half.

Add sliced jalapeños and stir gently. Whisk in butter, omit this step if you want to serve slices of butter on the side. Remove from heat and transfer to a mason jar.

Allow to infuse overnight or no less than 4 hrs.

To serve, place jar in a hot water bath or microwave to melt. Strain out jalapeños if you desire, or leave them in to build more heat.