We're big snackers in our family. There isn't a cabinet or cupboard in the house that doesn't contain a bag of something salty and crispy, or sweet and chewy. Some of our best memories have been made while casually snacking together.
Lately we've been cooking at home (and snacking) more and more. Over the past few months we've had a lot of fun bouncing ideas off of each other and getting creative with our meals. During one of our recent "so what should we do for dinner" conversations, we decided that we were both craving chicken schnitzel. So we decided the dish had to be part of our next dinner-time adventure.
After scouring our pantry, I realized we were fresh out of bread crumbs; actually, basically everything bread-related. Thinking quickly, I remembered our fully loaded snack cabinets! I suggested we crush up the last bits in a bag of Lay's Kettle chips we'd demolished in our nightly game of Diablo III, using the crispity crunchity bits as our breading. Next we added some crushed pretzel sticks for salt and crumb texture. Needless to say (I hope), the result was super delicious!
CHEF'S NOTES
I don't know about you, but I love dill pickle anything. In fact, I keep about three jars of different types of pickles in my fridge at all times. One of my favorite ways to eat them is with potato chips. This dish's buttermilk marinade infuses the chicken with the tangy flavor dill pickle and a rich umami undercurrent. The chips add the perfect amount of crunch. If you're feeling adventurous, try other cuts of meat like pork and fish. This dish pairs great with our best-ever mashed potatoes.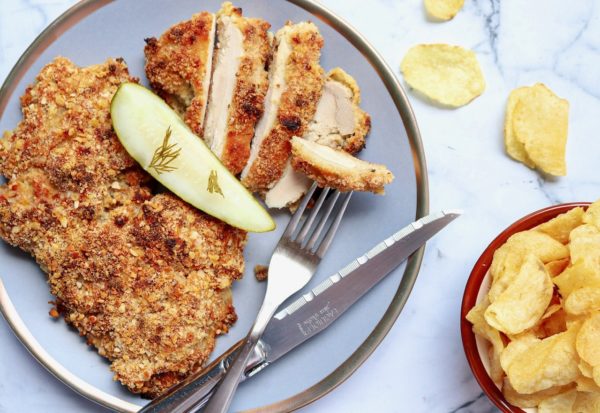 | | |
| --- | --- |
| | |
Combine all the ingredients for the marinade in a medium-large bowl. Whisk together and add chicken to the brine. Allow to marinate for at least 1-2 hrs or overnight.
Preheat oven to 425f degrees. Gather 3 medium bowls and one half sheet baking tray. Spray baking tray with oil or line with parchment/aluminum and spray.

Pull chicken from the fridge. In the first bowl, transfer the chicken pieces into the new bowl leaving the buttermilk marinade behind. In the bowl with the marinade, crack one egg into the bowl and whisk together to combine.

In the second bowl, add the flour, salt and pepper. Whisk to combine.

Using a food processor or rolling pin, crush the potato chips to small size pieces resembling bread crumbs. Transfer to the third bowl.

One piece at a time, lightly dredge each side of the chicken piece in the flour shaking off any access. Dip that same piece into the egg/marinade mixture, then to the potato chips, coating each side. Transfer to the baking tray. Repeat this for each piece of chicken.

Once all pieces are coated, transfer the pan to the oven set on the middle rack. Bake for 20 mins or until center registers 165f degrees.

Turn the broiler setting on and brown the tops of the chicken for an additional 5 mins.

Remove from oven and serve with your favorite spatzle, egg noodles and bacon gravy, our best-ever mash potatoes or in a sandwich. The possibilities are endless.