Wings are my favorite part of any poultry. I'll fight anyone at the table for those boney bites on roast chicken night. Drumettes or paddles? Paddles all the way. Bone piles of them on my plate. We all love eating them, but preparing them can be challenging. If you happen to be like the many of millions of trendy kitchen gadget adopters and own an air fryer, you're in luck. It's now easier than ever to enjoy those juicy nuggets of bird in 20 mins or less. And get this, they're better than the 12 pc from Wingstop that Grubhub took 30 mins to drop off.
Garlic parmesan is the flavor combination of the gods. It's straight up childhood memories of crazy bread vibes and shooting Papa Johns dipping sauce like jello shots. So good you could put that sh*t on everything. And the best kind of garlicky parmy wing dredge is always homemade. For this recipe, we're going to confit fresh garlic and brown the butter for layers of toasted notes. Strap yourself in because we're going to party on down to wing town.
CHEF'S NOTES
So you're probably wondering why there's baking powder in this recipe? The alkaline nature of bicarbonates in leavening agents raise the ph in the chicken skin breaking down those beautiful peptides and kickstarting the maillard reaction, crisping up that skin to perfection. Not to mention, it acts like culinary glue when you're ready to toss those bad boys in sauce. Don't have an air fryer? No need to worry. A traditional still or convection oven works just as fine. For the parmesan, there is absolutely no shame in using the good stuff in the green top shaker. I, personally, grate my own, but I'm fancy. Both options are equally delicious. So crack open an ice cold one and get your fingers dirty.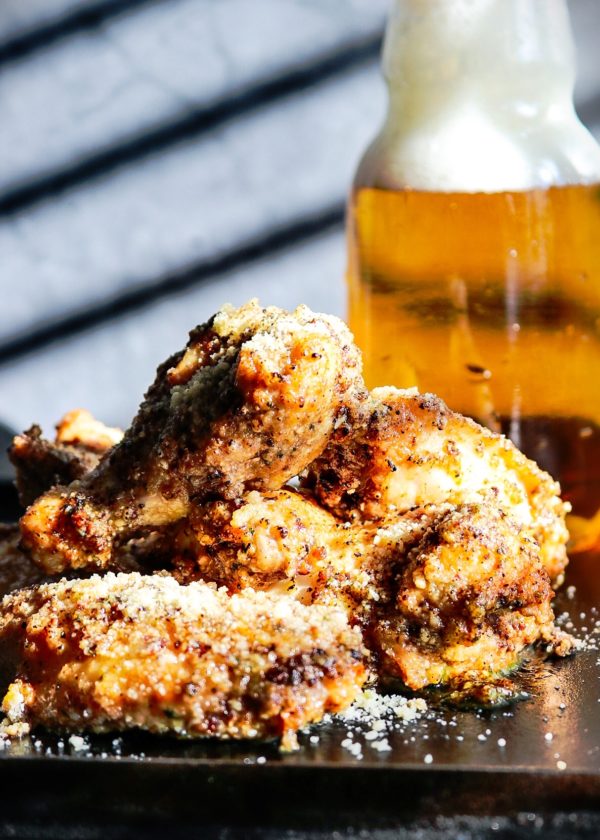 | | |
| --- | --- |
| | |
For the Garlic Parmesan Dredge
In a small sauce pan or fry pan, add butter and garlic. Turn stove to medium heat. Once butter has melted and garlic begins to crackle, give it a good stir and turn heat down to low. At this stage, you can leave it alone for about 10 mins. Observe for increasing browning.

Depending on the pan and the heat source, it may take up to 15-20 mins for the garlic and butter solids to brown. You want the garlic to reach a light golden blonde/brown and it smells slightly toasty. Turn the heat off and remove the pan from the heat source.

Add the spices and stir gently. Add half or 1/4 c of the parmesan, stir and set aside. The dredge should resemble a rich buttery paste. The other half of the parmesan will be reserved for sprinkling on top during the toss.
In a large bowl, add the chicken wings and baking powder, toss to coat thoroughly. Preheat the air fryer or oven at 400f degrees for 20 mins. Lightly spray the inner rack with a small amount of oil to keep the wings from sticking.

Add the chicken wings to the air fryer once it makes that lovely beeping noise that it's ready. Place the wings in a monolayer, touching tips is fine, just make sure they're not stacked on top of one another. Close the basket and wait for the magic to happen. For oven baking, lay the wings on a baker's rack or lined baking tray with parchment. Transfer into the oven.

Midway through the air frying, give the basket a good shake or for conventional oven baking, individually flip the wings over. Continue cooking until the cycle has ended and the timer goes off. For the oven bakers, turn on the broiler for the last 5 mins of cooking to get an extra hit of crunch on the skin.

Immediately transfer the wings to a large bowl. Add the garlic parmesan dredge and begin tossing, sprinkling a little of additional parmesan dust.

Serve them with a little extra parm on top and any extra garlic butter for you die hard lovers.