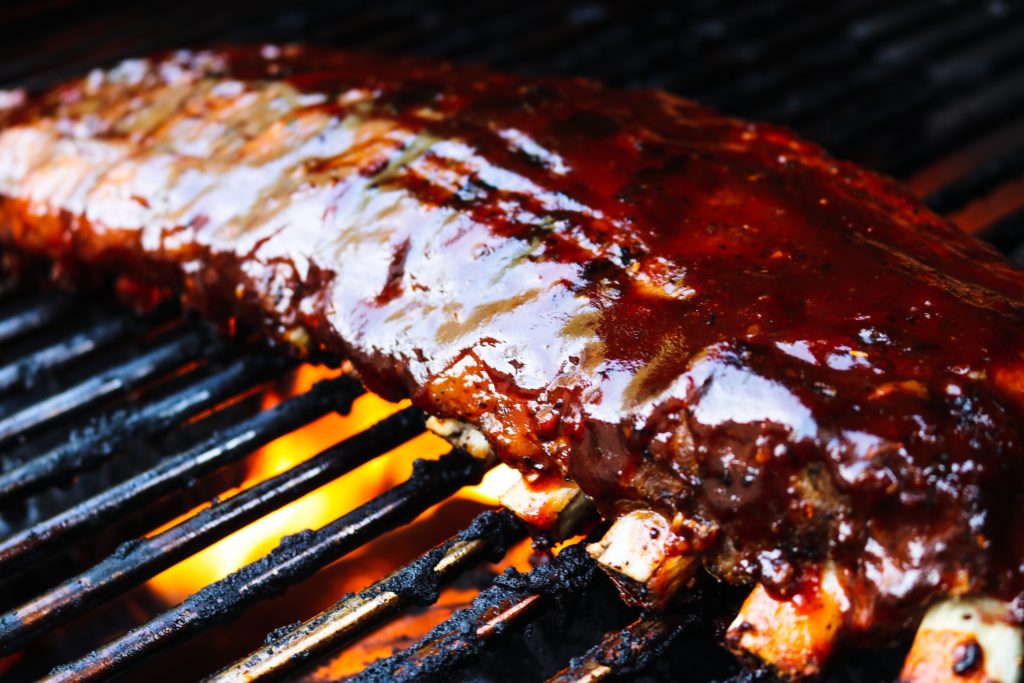 What exactly makes Texas BBQ sauce different than, say, Carolina, Memphis, or KC Style? It's the perfect balance between tomato, vinegar, sweet, savory, and spice. A sauce that's best with brisket, great on ribs, awesome on chicken, better on pulled pork. Heck even you can even use it on beans or anything else for that matter! Not too thin, not too thick, and with just the right amount of meat drippings.
My sisters and I grew up splitting our time between the South and Southern California. Our favorite memories were built around campfires and grills. So I'm no stranger to a good bbq. Over the years I've put in countless hours pit fire smoking, grilling, roasting, and broiling in kitchens and in the outdoors. Ribs are a favorite amongst my friends and family.
Quick N' Easy BBQ Sauce
I first learned a quick and easy way to prepare pork spare ribs by braising them in beer and finishing them off on the grill. My methods eventually evolved to slow smoking them for hours. Lately, I've been playing around with oven roasting and even pressure cooking. In the end, no matter how I cooked them, the sauce always ended up with the highest approval rating of anything at the table. It's quick, easy, and features an unexpected ingredient I learned from my Hawaiian chef friends. You'll want to put it on everything.
Chef's Notes
This recipe features a sweet little secret…fruit. You can use anything from apples, plums, peaches, pineapples, or even just the juice. Blending the cooked down fruit acts as a natural thickener. If you don't own a blender, you can just strain the sauce through a sieve and thicken using a cornstarch slurry. Prepare your meat any way you would like. For our ribs, we season the exterior with a rub and slow roast them with a bottle of beer in the oven or smoker for 2 hours. Wrap them in parchment and plastic to rest, then sauce and finish on the grill or broiler. Pair this with our decadently delicious mashed potatoes for a match made in heaven.
| | |
| --- | --- |
| | |
In a large sauce pan, cook onions and fruit on medium/high heat until onions are lightly caramelized and translucent. Approx 4-6 mins.

Add brown sugar and worchestershire sauce, seasonings, ketchup and molasses. Continue cooking for 5 mins until sugar has dissolved.

Add vinegar and cook for 2 mins. Add pan drippings or stock and remainder of ingredients.

Stir well to combine and turn heat down to low. Sauce should simmer and bubble gently.

Cook for 15 mins stirring often to ensure nothing is stuck to the bottom. Add a few spoons of water if it begins to thicken too much.

After fruit has completely broken down, transfer sauce to a blender or use a hand blender directly into the pot being careful as the sauce and pot will be hot.

Blend until completely smooth. If you want a thinner sauce, press and strain the sauce to remove the large pieces of fruit and onion and add 1 tbls of cornstarch and water slurry.

Continue to cook for an additional 5-10 mins until sauce is rich with flavor and color. Taste and adjust for salt and sweetness.

Store in an airtight container in the fridge or jar using the canning technique and it will last you throughout the summer.