Halfway through the pandemic, like millions of at-home cooks, we finally took the giant leap of air fryer faith and purchased our first appliance of the year. This meant the challenge of putting both old and new recipes, against tried and true methods in our test kitchen. Nearly 6 months and 400 meals later, we've embarked on the journey into mastering some of the unique capabilities and untapped potential this compact, high-powered, cooking pod can do. Today, we tackle the ultimate southern fish fry.
Believe me, most professional chefs have an affinity for solid cookware and 10,000 btus of gas powered fire. It's in our blood. The sound, the feel, the sizzle, steel and flame can always get the job done. Reminding myself to put my culinary skills aside and commit to investing in that trendy little machine, it was time. After perusing countless air fryer videos on Youtube, I was still skeptical of the rigid plastic box outfitted with an upside-down electric coil, tiny exhaust and thin metal fry basket. But remember, I'm committed. Through extensive research and weighing the options against power vs price, it came down to the $300 Phillips TurboStar or the $100 Instant Vortex 6-in-1. Unwilling to give up my toaster and oven quite yet, I figured the ROI on the value air fryer was the way to go.
Philips $300 vs Instant $100
*Note: There have been dozens of models that have launched since our purchase in 2020, and they're quite impressive. We also recommend the new Instant Vortex 7-in-1 and Pro 9-in-1 per recommendations from the L2C community.
Ok, now some of you have asked, "what exactly is an air fryer and why would it replace any of my current appliances?" Well, an air fryer is simply a table top impingement oven. A similar type of oven restaurants use to cook up that pizza you had delivered last week. A large heat source, usually situated above the food, is forced in, on and around the food using a high powered fan in a small area. Big heat, strong fan, itty bitty living space. With a touch of oil on the surface of the food combined with intense hot air, the cooking process mimics that crispy fried exterior we love so dearly in our deep fried friends. Praised for it's do-it-all design, I was thrilled to test every function and every limit this bad boy could do.
THE FISH FRY TEST
I live in the south, the land of good 'ol boys and the old fashioned catfish fry. You can dress it any way you'd like, from fries, coleslaw, bean pot, and other starches. Our personal favorite is a classic platter – commonly found on the menus of most lakeside restaurants in Texas – heaping portions of seasoned cornmeal catfish, jalapeño hushpuppies, and battered okra. Simple fried heavenly goodness. On the day of testing, we happened to score a fresh basket of home grown okra from my mother's garden. Lucky us, nothing beats mom's produce. Our goal was to prepare each side dish and main, using both a deep pot of oil and our shiny new air fryer. Plus, it's a great way christen the appliance properly, and an even greater excuse to stuff our faces in cornmeal covered deliciousness. All ingredients are freshly prepared in a large batches and divided between the two cooking methods. We test each item and rate them based on texture, taste, and color – with the traditional deep fryer method as our reference point. Here are the results in the absolute best tested methods to cook a southern fish fry.
THE CAT'S PAJAMAS
It would only be right for me to get to the meat of it, and that protein happens to be the highly underrated catfish. A summer southern delicacy and staple at any lakeside get-together. Here, we opted for farm raised filets from our local.
Simple buttermilk dredge and a custom blend of seasoned cornmeal with a touch of panko, the buttery Japanese bread crumbs are the secret to air fryer glory. Trust me on this.
DEEP FAT FRY
Drop it like it's hot… in a pot of 350f degrees peanut oil. 8-10 mins until it reaches that gorgeous golden color. Pull and drain on a rack or towel. This is heaven to me, btw, and takes me back to the time I drunkenly stumbled into a fish fry in a stranger's backyard during Mardi Gras. The best of times. Also, stare deeply and ASMR those bubbles. Beer in hand, we are one with the fried fishes.
AIR FRY
Give the filet a nice spritz of oil. Any will do, we are keen on using the same peanut oil in the deep fry. Just pop it in an atomizing oil sprayer, cover the filet top and bottom. Air fryer set to 400f degrees for 11 mins. Midway through, filet gets a nice little flip. Once the door closes, the magic begins.
THE VERDICT
Air Fry. Not only is the filet juicier and flakier, the flavor of the buttermilk and seasoning really comes through without the overpowering taste and smell of acrid hot oil. The crispiness of the crust stands up in both iterations with an extra layer of melty breading on the air fryer version. I mean, wow. Hands-down some of the best breaded fish we've ever had. The proof is in the pictures, and the plump air fryer filet is worthy of our full commitment to this new toy.
WHO LET THE DOGS OUT?
Where did the name 'hushpuppy' come from? Apparently, back in the late 1890's, the first recorded use of the clever name comes with an even more clever tale. Fisherman and huntsman would fry leftover cornbread batter from their cookouts and toss the little nuggets to their dogs in order to 'hush' the nightly barking. Thus, the name hushpuppy is official. One thing is for sure, you can easily shush me up with a mouthful of these poppable morsels. This is a basic recipe I've been using for years in my restaurants, with the addition of fresh diced jalapeños and sharp cheddar, they're perfect for this experiment.
DEEP FAT FRY
Reminiscent of my favorite food on a stick, I'm immediately transported to Texas State Fair vibes. Drop these little jewels in the same oil from our fish fry – using a small truffle sized disher or teaspoon – turning often to ensure golden goodness through and through. No need to worry if they're done all the way. Once you see little pockets of cheese bursting out, it's time to pull them. Set a timer for 3-4 mins if you like them piping hot.
AIR FRY
It's impossible to fry hush puppies in an oven. Feasibly not doable, at all. I didn't have my silicone dome moulds on hand so I opted for a mini muffin pan. Set the temp to 350f degrees so they don't explode. Filling each well with a small amount of peanut oil and dropping a spoonful in each vessel, transfer the pan straight in, close the door and pray.
Well, these aren't these adorable? I'm getting Cracker Barrel vibes.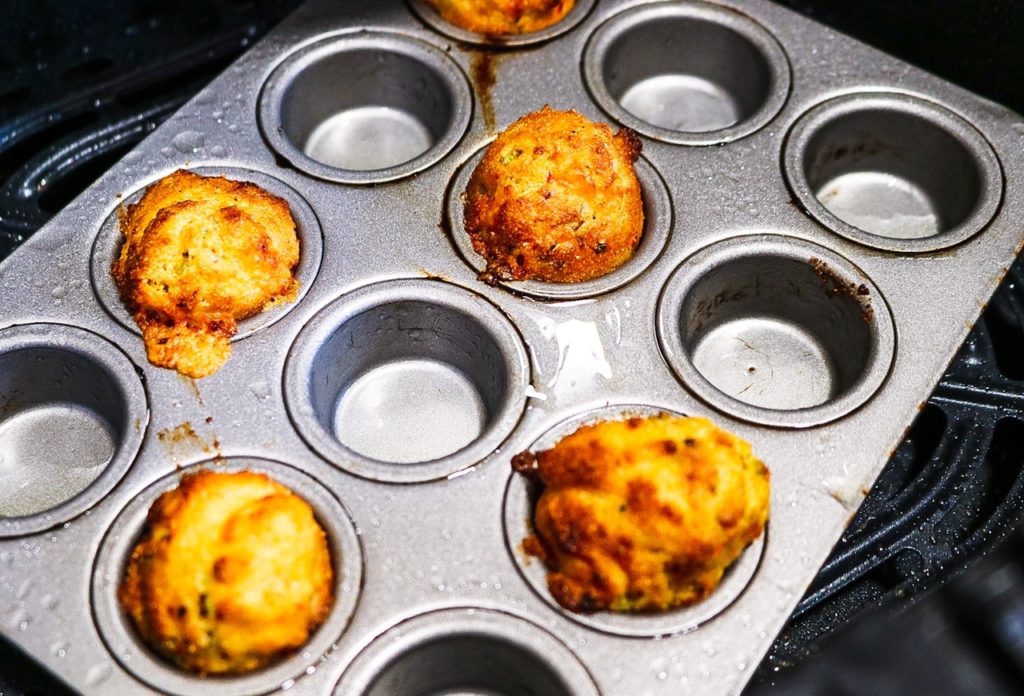 THE VERDICT
Deep Fat Fry. There's no comparison. You're either getting a fried golden ball of awesomeness or a precious little corn muffin. I think we can all agree that the only downfall of an air fryer is the lack of flexibility in the liquid-to-solid transformation area if you're going savory. I would imagine that frozen hushpuppies in the freezer aisle, that have clearly been previously fried, would reheat beautifully in an air fryer. Until then, we're still going to continue to drop spoonfuls of corn batter in screaming hot oil and relive my fat kid days.
NOT YOUR MAMA'S MEDIOKRA DISH
Freshly picked okra is a total game changer. It's tougher, more slippery, greener and with twice the flavor. It's an acquired taste and not for the faint of palate – the slime factor is real. Pickled, stewed, roasted, it never fails…but nothing beats fried. Something about the way it steams on the inside, blanketed in a crisp outer shell, forces you to devour them with haste before they become sad little soggy nuggs.
Again, simple execution is key. We opted for the same dredge as the catfish minus the panko, but this time, we generously salted the cut okra to release some of the slime. Pat them gently with a paper towel to release the juice. Otherwise, if you're down to goo, go for it, sans salting.
DEEP FAT FRY
Wash, rinse, repeat the steps from the earlier deep fried goods. This time, let the okra fry for at least 2 mins before removing them. Times will vary based on how big your 'kra are cut and how fibrous they are. I like to give mine a longer float so the insides are extra tender. Drain as usual and season with s&p.
AIR FRY
Slide those breaded babies onto the fry rack and give them a heavy dose of oil spray. Lessons from the hushpuppy experiment, oil is key to trapping the steam inside while maintaining crispiness on the outside. 6 mins on 400f and we're off!
THE VERDICT
TIED. Okurrrr okra. They both performed so beautifully with attributes desirable on all sides. Super tender centers, crunchy corn crust, not overly oily, just perfect. Though I would normally lean towards the classic, the caloric tradeoff makes the air fryer a complete contender.
SO, ARE YOU READY TO COMMIT?
After much debate, we decided to finally retire the toaster, the microwave (temporarily), and the full size still oven (unless it's pizza night). And if you've been on the fence or having doubts about copping one of these magic meal makers, check out the weekly air fryer Friday recipes. We're talking roast chicken, wings, ribs, grilled cheese, muffins to limoncello cake, it's going to be insane. Lastly, if I can make one last effort to sway you, the air fryer cooks up perfect bacon with effortless cleanup and renders the fat perfectly for future use. Bacon is reason enough to commit to anything. Make room on your counter and give it try. I promise, you won't regret it.
-Chef Ngoc & Bryan