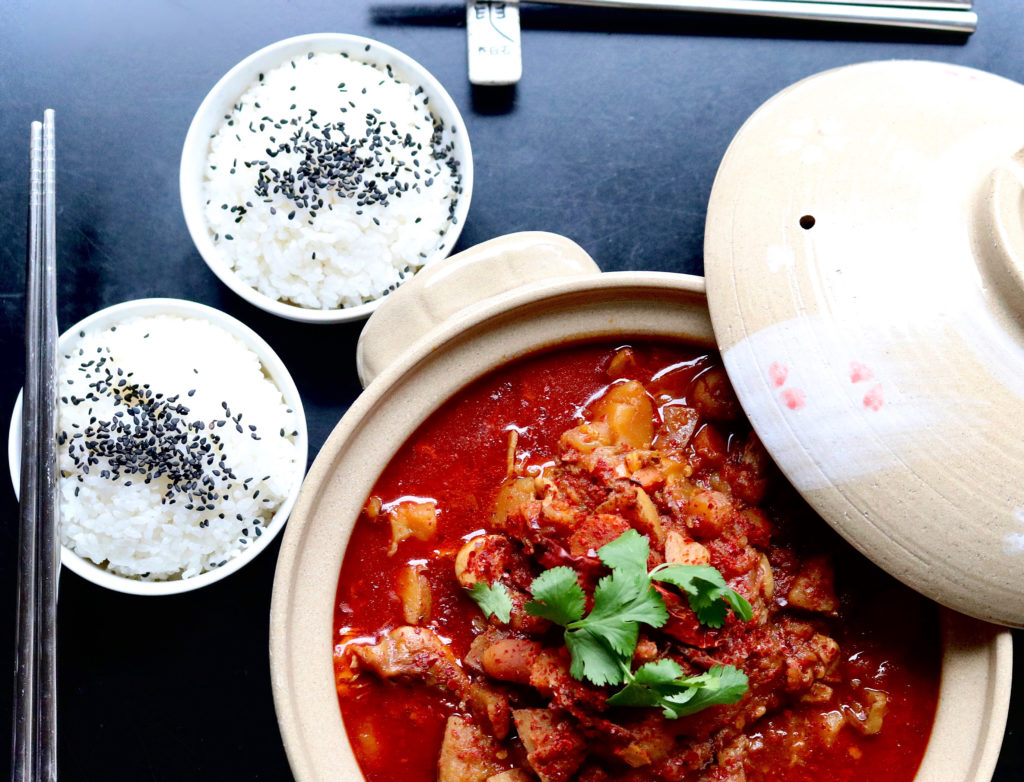 My craving for Korean food is a constant, everyday calling. K-Towns have been popping up all around my city for the past several years, so there's never a shortage of great food to fulfill my desire. But with local lockdowns bringing the restaurant industry to a virtual standstill, how's a girl supposed to get a fix? Duh, YouTube!
During a late-night visual food hunting session with my hubs, I came across these awesome videos of Korean grandmothers preparing utterly mouthwatering home-cooked meals. I instantly felt a wave of inspiration (and uncontrollable hunger) wash through me. Nostalgic memories of cooking with my own late grandmother came rushing back to me. Our favorite dish to make together was a simple and delectable Vietnamese chicken and rice dish. I thought, why not try putting a Korean spin on Grandma's favorite comfort food?
Dakbokkeumtang is a rich-and-spicy braised chicken dish from South Korea. Like my grandmother's chicken, it's typically served with rice and sides. Made with simple ingredients, this dish is cooked in layers in a clay pot and simmered until its sweet-spicy aroma fills the entire house. Chunky potatoes and hearty vegetables complement a fall-off-the-bone tender bird. A zesty blend of chilis and spices merge perfectly with my secret ingredient, asian pear, for this dish's signature sweetness.
Chef's Notes
Marinate the chicken overnight for full flavor, or no less than 30 mins to 1 hr. If Korean chilis are not available in your area, frescos, arbols, and thai chilis will also do the trick. Apples, palm sugars, plums, and even pineapple chunks all make great substitutes for asian pears. Chicken thighs braise the best, but any cut of chicken will still yield an excellent stew. Prepare white medium grain rice and banchan of your choice for a complete meal.
| | |
| --- | --- |
| | |
Add buttermilk or yogurt to chicken, toss until covered.

In a separate bowl, combine all marinade ingredients together and whisk. Pour over chicken. Cover and marinate in the fridge for 30 mins-1 hr for same-day or overnight for full flavor.

Remove from fridge and allow to rest for 15 mins when ready to use.
Transfer chicken and marinade to a cast iron, clay, or standard pot. Wedge slices of pear in-between chicken pieces and through the scores in the chicken. Pour liquid over the top until completely submerged. Add additional water if needed.

Cover the pot and begin cooking the stew at high heat for 20 mins. Crack lid if liquid begins to boil over.

Remove lid and top with remainder of the diced vegetables, kimchi and sliced peppers. Stir to remove any stuck pieces of chicken from the bottom of the pan.

Replace the lid and turn heat to medium. Simmer for an additional 20 mins. If you chose to add Tteokbokki, korean rice cakes, this is the time to throw them in.

Remove lid and add green onions. Taste stew to adjust for saltiness and sweetness.

Turn heat to high and rapid boil to reduce liquid for an additional 5 mins.

Remove from heat and serve with your favorite side dishes.